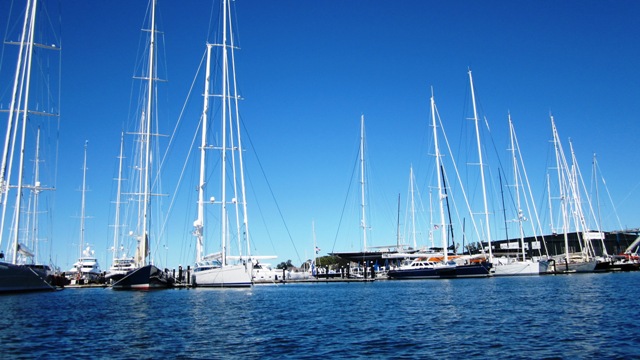 Book II of the Adventures of Isabelle's subtitle is "Journey to Orphalese" and most of the book takes place aboard sailing vessels, on the high seas and on tropical islands. It is a tale replete with pirates, mermaids, and plenty of passion not to mention a good sword fight or two. So it was great luck that my writing retreat to Martha's Vineyard
(see Martha's Vineyard Writing Retreat 2012) took me near Rhode Island and the home of my good friend and nautical consultant on the book; Jen. Jen is a retired lieutenant from the US Navy and the inspiration for the character of Pirate Jenny in my book. (She is by no means  a pirate in real life but a Navy nurse isn't as scary as a pirate.)
So adding a day to my trip, I arrived at Woods Hole by 8:00 a.m. Sunday morning and drove south to RI to meet up with Jen (you may recall that I had stopped by for coffee on the way up). After breakfast we headed to Newport to meet the rest of her crew (friends; Mary Ellen and Alison Dwyer, 
taking her sailing for the day for her birthday) and Capt. Mike. Mike runs a sailing school which was great because we actually helped him sail and I got to learn a bit about sailing. While I love boats and the ocean and while I love pirate adventure and lore I am a very lazy sailor and usually find myself on motor boats and fishing trips working on my tan so it was good for me to actually do a little real sailing (or at least be near people who are sailing). We took a lovely trip around Newport harbour seeing the sights and just generally enjoying  a perfect day. We were not attacked by pirates and I spotted only one mermaid but it was great non the less.
After sailing we parted ways from the crew and Jen took me on a tour around Newport then to the navy base where she had attended officer induction school. That was a lot of fun. I have a thing for army and navy bases so this was a big treat for me. The heroine of my story Princess Isabelle is the commander of her Royal Navy (of Xamayca) so again this was good research for me not to mention fun to see a place that my good friend had spent so much of her life.
By the end of the day (we ended up on the deck of the officers club as the sun was
preparing to set), which also came at the end of an awesome but busy week,  I was pooped! We went back to Jen's house with her three cute pups had waffles for dinner watched a movie then went to sleep. I had to shove off early and a good night sleep was exactly what I needed.
The drive home was easy and the weather great. This gave me a nice time to reflect on my gratitude for an awesome week. I got my R & R (rest and reflection), saw beautiful sights, did a good amount of writing, had fun, ate good food and got to spend time with good friends and make some new ones.
Post Script: Jen passed away on November 25, 2013 and is dearly missed!
To view more pics click Newport Sailing Adventure
Join the VQR tribe on the  Vision Quest Retreats Facebook page