I'm excited to tell you that author Maria Leonard Olsen and I as well as our retreat participants had such a fabulous time on our sold out "Writer's Beach Retreat Spring 2016" that we want to do it again! A powerful group of women showed up and magic happened. Positive comments and demand for more have come pouring in so to continue the amazing work that began that weekend we are doing a day-long mini retreat poolside in Potomac, MD!
Do you want to hear what participants are saying? Check out some of their comments below…
Sometime God sends miracles. I saw many of them this past weekend. The connections, the love, the food, the talent, the love, the healing tears, the laughter. Our voices. ALL OF US. —Daynna Dixon
Thank you so much Nicole Cutts and Maria Leonard Olsen for creating life moments that heal, affirm and celebrate our stories! –Carol Binta, Author of Civilized Blacks
Rejuvenation! A weekend full of love, authenticity and breakthrough. 2016 Beach Retreat with Vision Quest Retreats is just what the doctor ordered, Literally. Thank you Dr. Nicole Cutts and Maria Leonard Olsen for your vision and coaching.—Spirit Dixon
Writer's Beach Retreat 2016: Talk about a wealth of information. The workshops, information, tips, and advice Nicole and Maria gifted to us were priceless. We also had a workshop led by Pam our social media maven. Truly an awesome and invaluable experience. I've already begun to apply things I've learned. —Anonymous
Vision Quest Retreats "Writer's Beach Retreat" provided an excellent opportunity to tap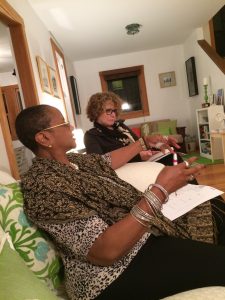 into and explore the writer I've always wanted to be. The retreat led by Dr. Nicole Cutts and Maria Olsen provided the right balance of workshops and one-on-one sessions to educate and arm each individual participant with their own actionable items to move forth to their next level of being a writer or advancing their existing projects. Nicole and Maria were very knowledgeable and encouraging with each participant. They also provided a perfect setting to relax, focus, be deliciously nourished, and have fun. I definitely recommend this retreat and their services to assist anyone in their writing efforts. —Kathryn C. Boxill Satisfied Customer & Writer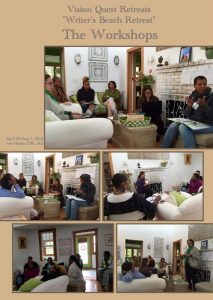 The VQR Writer's Beach Retreat was superb! I gained a wealth of information about writing, and engaged in wonderful dialogue with a group of phenomenal women writers. This retreat was more than just a weekend of writing and obtaining informational resources. It was packed with motivational and inspirational messages, sisterhood, and healing. Vision Quest has inspired me to become the writer that I have always wanted to be. Thank you Dr. Nicole Cutts and Maria Olsen for your enthusiasm, hospitality, and valuable insight and coaching during the retreat. I am looking forward to another writer's workshop. —Anonymous Participant
REGISTER FOR THE WRITER'S "BEACH" RETREAT BY THE POOL!
Join this women's day-long poolside mini retreat to reconnect with and strengthen your writing muscles in a peaceful supportive atmosphere.
Do you crave a peaceful creative space to focus on your writing? Would you like to get the support of published experienced like minded women and inspiration to support your writing? If so join us for this relaxing and rejuvenating day poolside in a private home in Potomac, MD…
On this retreat published authors and a success coach will guide you through writing exercises and share tips to help improve and SELL your writing. You will also get a chance to share and get feedback on your latest writing projects in this supportive creative environment.
Carve out this quiet time to concentrate on your writing.
Improve your writing skills along with tips on publishing, marketing & selling your books
Receive feedback & inspiration from like-minded talented women who are living their visions of success.
Rejuvenate with healthy food, yoga, & relaxation in nature.
Create accountability partnerships to help you advance your writing projects.
Registration: $97.00 EARLY BIRD PRICING: $87.00 (Discounts available for returning retreat attendees)
Meet the Facilitators!
Nicole Cutts is the author of The Adventures of Isabelle Book I a fantasy adventure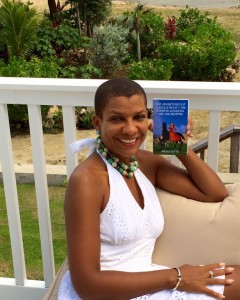 heroine's quest novel. She is also a clinical psychologist, success coach and master facilitator. Her passion is helping women unite with their passion through their life's work. Read more about Nicole HERE
Maria Leonard Olsen is a Bethesda-based attorney and writer.  Her first book, "Mommy, Why's Your Skin So Brown?" is a consciousness-raising children's book about biracial children.  Her second children's book, "Healing for Hallie," was published this spring by Mirror Publishing.  Her adult nonfiction book, "Not the Cleaver Family–How the Typical American Family Has Changed," is in production by Tate Publishing.  Maria graduated from Boston College and the University of Virginia School of Law.  She practices civil litigation part time.  Her writing has been published by The Washington Post, the Washingtonian, Washington for Women, Parenting Magazine, Babytalk, among others.   She has presented at the Washington independent Review of Books, and numerous book fairs and diversity festivals.  You can learn more about Maria HERE
For More Info: Maria Leonard Olsen 301.520.6548 or Nicole Cutts 202.669.5777
Visit Vision Quest Retreats
See Images from our Writer's Beach Retreat Spring 2016!
REGISTER FOR THE WRITER'S "BEACH" RETREAT BY THE POOL!