I recently conducted a survey of working women to find out what their biggest challenges are. Some of what I found was surprising but some was not. As I know, not just from my survey, but from real life, you don't have a lot of time so I will get right to the point. The two biggest challenges identified by the 53 working women who responded to my survey were 1) Stress Management (42%) and 2) Time Management (39%).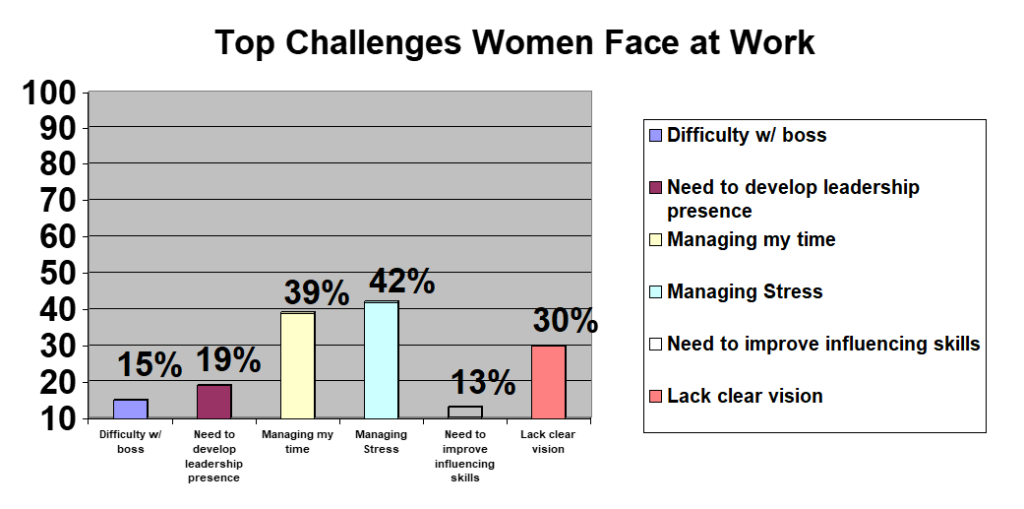 The next four greatest challenges were:
3) Lack of Clear Vision (30%)
4) Need to Develop Leadership Presence (19%)
5) Difficulty With Boss/Manager (15%)
6) Influencing Skills (13%)
To further assess the needs of working women I asked respondents to rate their interest in 14 training topics on a scale of 1-5 ( 5 being the highest). See their top 6 picks below.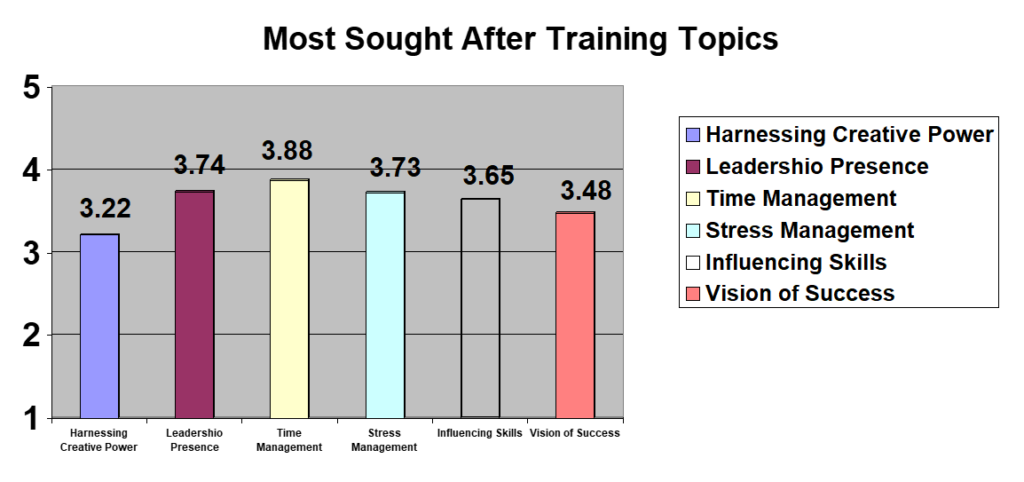 In order of preference women chose:
Time Management: How to be more efficient (3.88)
Developing Effective Leadership Presence (3.74)
Destressing for Success: Including self-care (3.73)
Influencing Skills for Women: How to Get What You Want (3.65)
How to Achieve My Vision of Success (for my life's work) (3.48)
Harnessing My Creative Power (3.22)
Discussion:
Since as far back as 2010 women have consistently reported higher levels of stress than men. Not surprisingly even a brief review of the literature also uncovers a trend where women have more responsibilities than men. While gender role expectations may have changed over the past 100 years there still exists an expectation for women to handle more of the household responsibilities than men and this includes the extended family. Men are expected to focus on themselves and their work while women are expected to work while focusing more on others and less on themselves and their own self-care. And as if that's not bad enough, we are told that men aren't as good at multitasking. The truth is, neither men nor women are particularly good at multitasking.
The reality is that employees of all genders are consistently being asked to do more and more with little regard for their well-being. And we keep thinking something is wrong with us, or that we need to get better at managing our time. While many of us could benefit from some helpful time management and stress reduction strategies, the truth is that WE CAN NOT PRODUCE MORE TIME!
Where we can, we need to set more boundaries and take back some of the time we give to others so that we can take better care of ourselves. And STOP FEELING GUILTY! For many work has become a drudge. Companies pay lip service to work/life balance but don't support this either structurally or culturally. The work culture of the United States is largely unhealthy. This is what needs to change. But, until it does we have to focus on what we can change. This is why I've provided some free tools for women which can be found HERE.
If you are a leader of an organization ready to create a high-performing work culture that thrives on well-being please drop me a line at dr.cutts@cuttsconsulting.com I'm happy to discuss how.