Segment Title: #Dancebreak: Learn to Celebrate Your Success (#6 out of a 6 series FB Live Event. STAY TUNED for more EVENTS)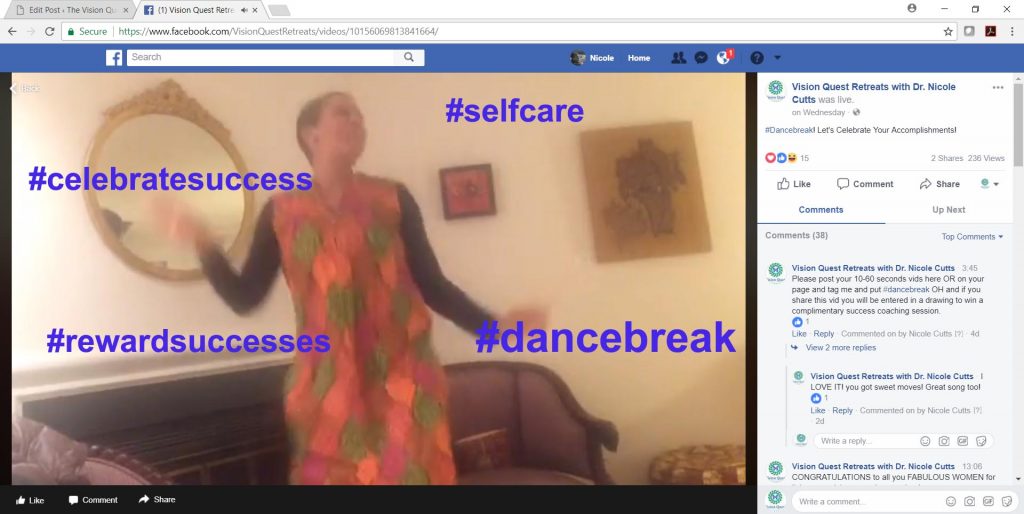 Click on the pic to watch the sixth installment of our FB Live Event on Vision Quest Retreats with Dr. Nicole Cutts Facebook page. Post comments and questions directly to video and I will reply!
Why #Dancebreaks?
The road to realizing your Vision of Success can be a long and arduous one. It's not enough to have a vision and goals: you need a clear plan with a timeline. You also need to chart your progress, take breaks, care for your health and reward small successes as well as large. All of the above serves to keep you motivated and staves off burnout. I've found #dancebreaks to be both rewarding and fun! They get me up, get my blood flowing and increase my creativity. In the above vid I discuss the importance of breaks, rewards, self care and invite you to dance with me!
You May Want to Try This…
Plan breaks into your schedule. Plan frequent breaks, especially when you're under a lot of pressure. Your brain needs time to digest and process information; moreover, breaks relieve stress and help sustain motivation. They also provide a transition period when switching tasks. The guideline for breaks is about ten minutes per hour of work. So if you plan to work for two hours you can schedule a 20 minute break after this and before your next task.  Consider something that would be fun and could recharge you like a walk, some stretching or my favorite a short #DANCEBREAK!
Wishing you all the best on your heroine's quest to achieve your Visions of Success!
GET MORE FREE SUCCESS TOOLS!
Did you find this useful? Please Share!
Let's Stay Connected!